3 Things You Can Learn From Adam Rex

Adam Rex has written and illustrated many different picture books ranging from books that appeal to toddlers through upper elementary school picture book readers. While he writes and illustrates many different styles of picture books, we'll focus on three writing tools he uses in multiple books. In this Adam Rex author study, you'll learn how he:
Shows his trust in the reader
Delights and surprises his reader
Utilizes different points of view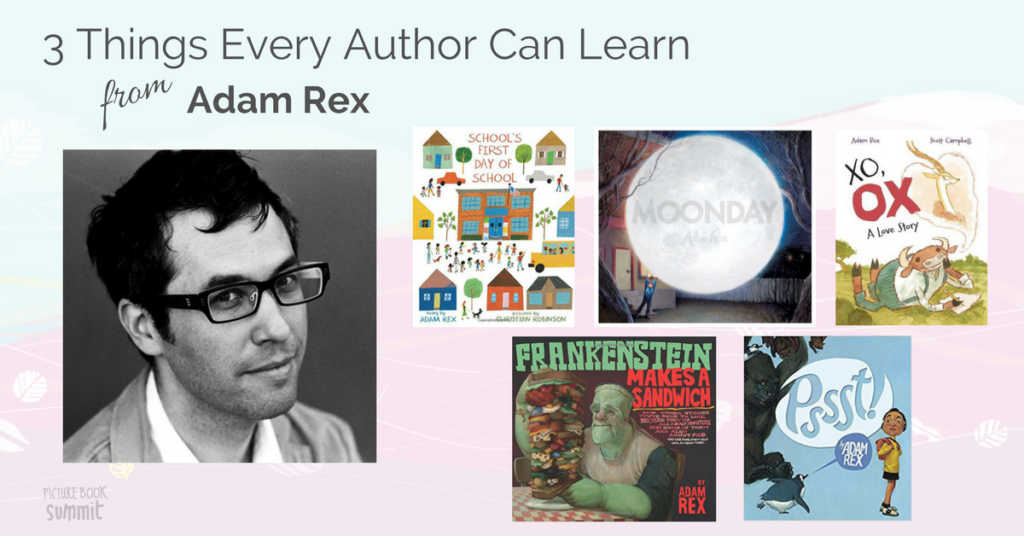 #1: Trust the Reader
Adam Rex is brilliant at letting the readers feel smart. In fact, he lets readers in on secrets that the characters often don't know.
In the one-sided love affair of XO, OX:  A LOVE STORY the reader knows that Gazelle is never going to love Ox back, but Ox doesn't know that.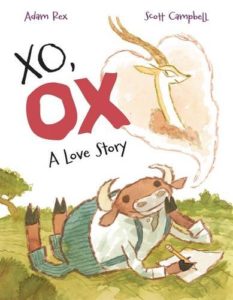 Rex's Frankenstein books (FRANKENSTEIN TAKES THE CAKE and FRANKENSTEIN MAKES A SANDWICH) are poetry collections that really assume that the reader knows a lot. They appeal to a much older audience than the typically preschooler picture book reader. He assumes the reader knows a variety of monsters and will be amused by them. From Frankenstein to Phantom of the Opera to Count Dracula, this collection of poetry appeals to the upper elementary reader with its word play, song parodies, and longer poems. However, these books are great examples of providing appeal to the parent reader too.
#2: The Unexpected
One key tenet of picture books is predictability. However, there is a fine line to walk between predictability and defying expectations. When Rex defies expectations, it often gives the reader a "HA!" moment of surprise.
In PSSST! even young toddlers will be delighted to follow the plotting of the zoo animals. We watch them coerce the main character to buy odd items for them, but the final reveal is one that delights young readers and gives them that HA! moment.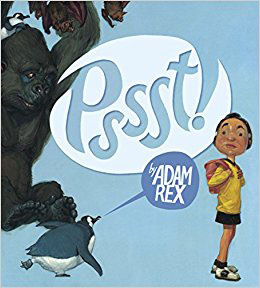 In XO, OX: A LOVE STORY the reader empathizes with Ox, because we know what he thinks will happen—that Gazelle will fall in love with him—will definitely not happen. And then, there's a surprise ending.
While SCHOOL'S FIRST DAY OF SCHOOL doesn't have a twist ending, it does defy expectations. The picture book genre has a flood of "first day of school" books. But this one is unexpected because it shows the first day of school from the school's perspective. As we know, picture books must show character change in just a few words. Because the school is personified, he sees one particular character differently at the end, surprising maybe even himself.
#3: Point of View
 One of the things that make Adam Rex's book standouts is the way he plays with point of view.
As mentioned before, SCHOOL'S FIRST DAY OF SCHOOL shows the perspective of the school. While it's told in third person, a very typical point of view for picture books, it's atypical in that school is personified and is the main character. The reader hears the feelings and watches how the school changes throughout the story.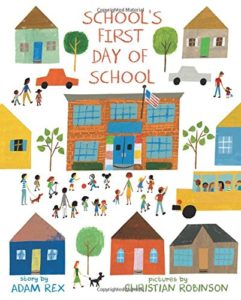 MOONDAY has an almost dreamlike quality. It's told in first person point of view from the perspective of a child living through the experience of the moon hanging low even throughout the day.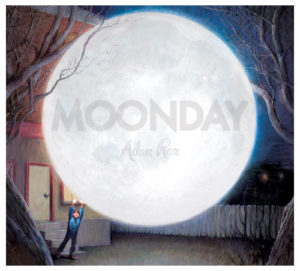 XO, OX is an epistolary war between Ox and Gazelle. The reader gets both of their perspectives and the results are hilarious.
Rex's work shows that point of view isn't just a choice between who is telling the story. It can have a profound impact in the story itself.
More Adam Rex
This author study just barely scrapes the surface of Adam Rex's body of work. Dive into these picture books and notice how he trusts the reader, brings the unexpected, and plays with point of view. Dive into more of his illustrated books, like THE LEGEND OF ROCK, PAPER, SCISSORS by Drew Daywalt and HOW THIS BOOK WAS MADE by Mac Barnett. Also check out his middle grade book, THE TRUE MEANING OF SMEKDAY (the inspiration for the movie "Home"). Adam Rex's work draws kids in, but it also gives writers much to learn from.
Learn more about Adam Rex's 2017 superstar keynote presentation on our website homepage, or register to learn from him live at Picture Book Summit on Oct. 7, 2017!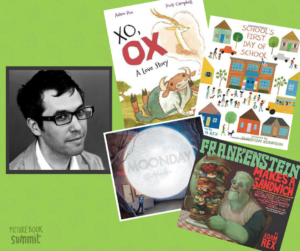 Article Author: Marcie
 Flinchum Atkins
Picture Book Support Team Member
Marcie
 holds an M.A. and M.F.A. in Children's Literature from Hollins University, is an elementary librarian, children's book writer, and writes about mentor texts at 
www.marcieatkins.com
.
More Author Studies